GRANITE LOFTS CONDOMINUMS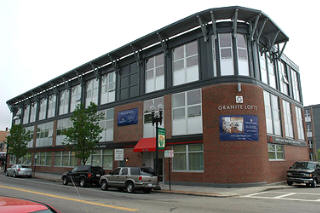 Vis it us online www.Grani teLofts.com or call 617-733-8914.
OVERVIEW
Granite Lofts
Granite Lofts provides a unique open floor plan style of living in a small city setting conveniently located near the North Quincy Red Line "T" station, stores, restaurants, post office, banks, library and grocery store. Situated on a almost 2 acre site and encompassing an entire city block, Granite Lofts condominiums are comprised of two separate buildings on the east and west ends of the site separated by a landscaped courtyard. Off street parking is included and garage parking is available at an additional amount. Starting at $299,000... Styles available: 1 Bedroom, 2 Bedroom Stainless steel kitchen appliances, granite counters, bamboo or polish concrete flooring, in unit laundry hookups, central air, ceiling fans, large windows, and elevator.  Most units have 2 full baths A major supermarket, pharmacy, video store, banks, a classic diner and U.S. Post Office are all within sight of the development. In addition, the North Quincy Red-Line MBTA station, at the end of Holmes Street, is only a 3 minute walk. Additional stores and services such as restaurants, dry cleaners, a hardware store and coffee shops can be found within a short walk. Loft residences have long been known for their open floor plans and flexible spaces. However, many loft developments don't deliver "completeness" of the homes when it comes to finishes – commonly offering only a one-room, multi-functioning living space, a single lavatory, little closet space and the most basic kitchen and bathroom finishes. Buyers of those type 'lofts' are often faced with the arduous and expensive task of upgrading the basic finishes and attempting to create some type of more private sleeping and living areas within one open space. From the early planning stages, the vision has been to bridge the gap between 'open loft' living and more complete, move-in ready residences. Granite Lofts delivers the best of both worlds. Each residence provides open, voluminous living space highlighted by dramatically high ceilings with exposed wood beams and wood decking. The expansive anodized, aluminum framed windows create stunning walls of glass. European-style kitchens are finished with both wood and metal-framed, frosted glass cabinet doors, granite counter tops, a free-standing island with overhang for seating, stainless appliances and low-voltage pendant lighting. Many of the bedrooms offer walk-in closets and bathrooms en-suite. The bathrooms feature a European-style vanity cabinet and sink on stainless steel legs, clean, white subway-style tile on shower/tub walls, low-voltage lighting and natural wood decking for a truly unique ceiling treatment. The sleek concrete floor system is stained and sealed in a warm 'cola' color, providing a smooth, continuous surface throughout. On-site parking for each residence offers yet another convenience, giving residents the ability to drive to their destination and arrive home to guaranteed parking.
• Close proximity to Boston by automobile or MBTA
• Conveniences of a small city setting
• Open, inviting and voluminous living spaces
• Contemporary interior finishes and layouts
• Livability like few other residential development
Granite Lofts offer you the best of all worlds.
Vis it us online www.Grani teLofts.com or call 617-733-8914.
T E A M
Developer
Granite Lofts Condominium LLC, the developer of Granite Lofts, is an affiliate
of The Heritage Companies, a comprehensive real estate development
and investment firm with offices in Boston and on the South Shore.
The Heritage Companies has achieved its reputation for excellence not
through its sheer volume of work but, rather, its innovative and
effective use of a strong foundation built upon decades of knowledge and
experience within the real estate development, construction, investment and management fields. A leading Boston area firm, The Heritage Companies and its principals have been responsible for the development of thousands of housing units throughout
New England, as well as many office, hotel, and retail properties in the region. In fact, the firm has developed and incorporated over one thousand residential units through the rehabilitation and re-use of mill-type and older properties alone.
The Heritage Companies commitment to quality is shown in all forms of the firm's vast array of residential product type, from 300-unit residential properties to some of the highest-end residential properties in the Back Bay and Beacon Hill areas of Boston.
The Heritage Companies brings to each and every one of its projects a wealth of development experience in both new and rehabilitated buildings, financial strength and a commitment to delivering quality and value to its customers.
Construction Company
Founded in 1981, Metric Construction is an experienced general contractor equally adept at creating cutting edge designs and historically accurate renovation. Its quality construction can be found in Boston's Back Bay, Beacon Hill and South End neighborhoods.
Metric Construction has established a reputation as one of the premier general contractors in Boston capable of achieving superior results with restoration for residential properties. Completed projects include many of Back Bay and Beacon Hill's most prestigious addresses including One Commonwealth Avenue, 150 Beacon Street, and The Tudor. In recent years, Metric has been a leader in building many loft developments in the Boston and surrounding
areas. These developments include Spencer Lofts in Chelsea, a 100 unit loft conversion, and Porter 156, a 217 unit loft conversion in East Boston.
Vis it us online www.Grani teLofts.com or call 617-733-8914.
Architect
Sheskey Architects is an architectural firm with a blend of registered professionals comprised of roughly one third architects 25- 30 years of professional experience, one third architects with 8-10 years of experience and the last third architects and architectural
interns with 2-5 years of practice. The firm finds that this blend of young and old combines to form a group that is uniquely qualified to bring clients a fresh perspective to all projects we are engaged in and the experience to realize these projects in a way that approaches constructability and costs as part of the creative design process. The firm's recent focus on multi-family residential projects in transit rich locations; commuter rail stations, rapid transit rail stops, highways, and densely settled urban areas, speak to the current drive
of towns and cities to encourage development in areas that build upon transportation networks in place. These projects range in use from Loft Condominiums in renovated industrial mill buildings, Mid-rise and High-rise residences in Suburban/ Urban areas,
Marine Waterfront Residential /Commercial Mixed Use Development, Free-standing, Single-family and Duplex residences, to master-planning Age-Directed, over 55, residential living communities of 100 homes and more. These projects are located in many parts of New England including Boston, Quincy, North and South Shores, Cape Cod, Western Massachusetts, Maine, New Hampshire, Connecticut and Rhode Island.
Vis it us online www.Grani teLofts.com or call 617-733-8914.
F I N I S H E S
Kitchen:
Frigidaire Stainless Steel Dishwasher FDB750RCC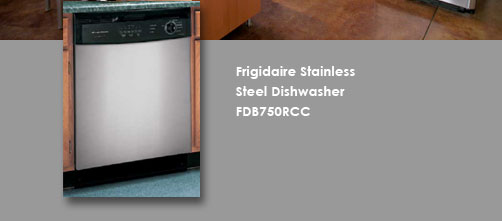 Frigidaire Stainless Steel Microwave FMV156DC
Frigidaire Stainless Steel Refrigerator GLRT217TD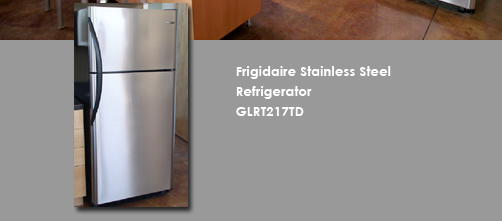 Frigidaire Stainless Steel Electric Oven with gas range FGF366DC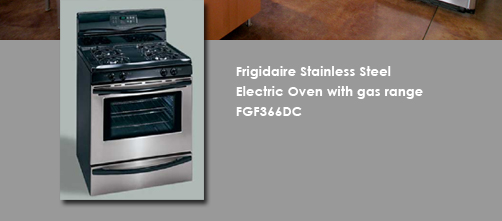 IKEA Akurum Kalsebo Beech Kitchen Cabinet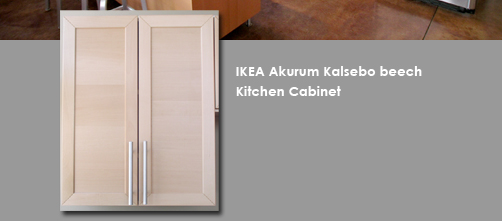 Black Granite Counters with under mounted Elkay Stainless Steel Sink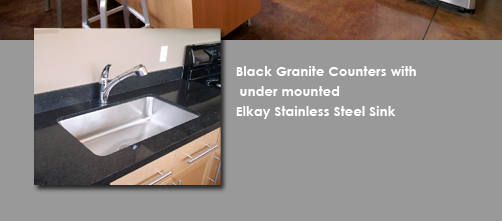 Bathroom:
IKEA Holliviken Sink and IKEA Vattern Ommen cabinet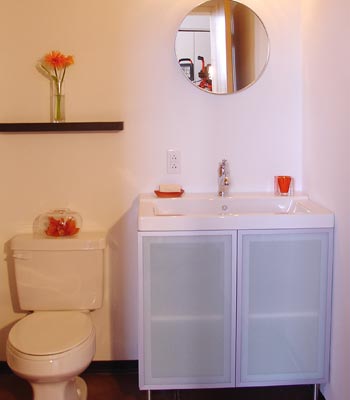 Vis it us online www.Grani teLofts.com or call 617-733-8914
*Developer reserves the right to replace any of these items with those of equal or greater value.
S P E C I F I C A T I O N S
EXTERIOR FEATURES
Building Envelope
Roof- New insulated EPDM Membrane -Aluminum flashing and roof drains as required
Exterior Walls- Existing brick masonry with metal panel & exterior insulating finish system
Windows- Clear anodized aluminumframed, thermo pane, low E glass with select operable
windows
Entrances- Aluminum framed glass doors
Site Courtyard- Landscaped plantings with a Masonry pavered walkway
COMMON AREA LOBBY and HALLWAYS
Lobby Elevators- 2 new elevators – one at Building #1 and one at Building #2
Mail Room- Locked mailboxes
Floor- Stained Concrete or carpet with recessed mat
Wall- GWB with paint
Wall Base-2 ½" Vinyl
Ceiling- 2x2 Black egg crate ceiling
Lighting- 2x2 parabolic lights
Corridors
Floor- Carpet
Wall- GWB with paint
Wall Base- 2 ½" Vinyl
Ceiling- 2x2 Black egg crate ceiling
Lighting- 2x2 parabolic lights
BUILDING SYSTEMS
Safety- Fire sprinklers throughout with smoke detectors and alarms
Communications- Intercom from each unit to lobby entrance via telephone
HVAC- Common areas are ventilated and heated
Plumbing- PVC and cast iron complying with all codes
TYPICAL UNIT FEATURES
Living Area
Floor- Stained concrete throughout-(with exception of bamboo
wood flooring east of column line 18 at Building #1)
Wall - Painted sheetrock: 2 coats Sherwin Williams "pure white"
flat on walls, semi-gloss on door frames and windowsills, or equal
Ceiling- Existing sandblasted wood beams and decking - where
new construction, new wood beams and wood decking
Doors- Pre-finished solid core birch (glue lam) doors – 3'x7' with
welded metal frames and brushed metal levers and hinges. Bifold
closet doors flush hollow-core Paint Grade
Lighting/Fixtures- Switched Outlet / Ceiling fan
Communications- CAT 5 wiring throughout
HVAC- Individual high-efficiency Gas Furnaces (hot air and 50-
gallon electric hot-water heaters
Electrical- 125 Amperes load center – individually metered
Laundry- Laundry Boxes ready for hook-up
Kitchen
Cabinets- IKEA Akurum Kalsebo beech
Counter Top- Black granite
Sink - Elkay Stainless Steel 28x16 single bowl
Faucet- Moen – pull out faucet
Appliances- Frigidaire Stainless Steel: 30" Refrigerator
(GLRT217TD) / 24" Dishwasher (FDB750RCC) / 30" Electric oven
w/ gas range (FGF366DC) / Microwave above range
(FMV156DC)
Lighting- 2 satin nickel hanging pendants-low voltage bulbs
Bathrooms
Floor- Stained concrete – (with the exception of bamboo wood
flooring east of column line 18 at Building #1)
Wall - White ceramic subway-style tile at tubs and showers –
painted sheetrock; two coats Sherwin Williams "pure white" flat
on walls, semi-gloss on door frame.
Ceiling- Wood decking
Door- Pre-finished solid core birch doors – 3'x7' with welded
metal frames and chrome levers and hinges
Vanity/Sink- IKEA Vattern / Ommen vanity with Hollviken Sink.
Tub/Shower- 60" x 30" shower in master baths, tub with shower in
2nd bath (if applicable)
Toilet- White Toto water closets
Lighting- Vanity light, 3 light brushed steel low voltage bulbs
All bathrooms will feature framed wall hung mirrors
Vis it us online www.Grani teLofts.com or call 617-733-8914.
*Developer reserves the right to replace any of these items with those of equal or greater value.
NEIGHBORHOOD
Restaurants, Shops and Services:
Bank of America 440 Hancock St 800-841-4000
LeColson Fine Jewlery 795 Hancock St 617-786-7942
TJ Maxx 100 Granite St 617-479-0713
Marshall's 141 Newport Ave 617-328-9529
Quincy Athletic Club 100 Quincy Ave 617-328-7317
Wheelhouse Diner 453 Hancock St 617-328-3666
Hannaford Supermarket 475 Hancock St 617-472-6204
Granite Links Golf Club 100 Quarry Hills Dr 617-296-7600
Coffee Break Café 12 Old Colony Avenue 617-773-9420
Fajitas & Ritas 1237 Hancock St 617-774-1200
Panera Bread 200 Hancock St 617-328-5473
7 Eleven 363 Hancock St 617-773-2832
Siro's Restaurant 307 Victory Rd 617-472-4500
North Quincy MBTA Red Line
The Granite Lofts are located .3 miles or less than a 5 minute walk to the Red Line North Quincy "T" stop. On the Red Line from North Quincy:
To South Station 16 minutes
To Park Street 19 minutes
To Kendall 23 minutes
To Harvard Sq. 30 minutes
Quincy History
Quincy, which is known as the "City of Presidents," is part of Norfolk County and contains 88,025 residents and a population density of 5,178 people per square mile (information from the 2002 U.S. Census). The City is the most populous of communities on
what is commonly referred to in Massachusetts as the "South Shore," which extends along the coast down to Cape Cod. However, it is more frequently viewed as a medium-sized city within the Boston metropolitan region. Quincy has approximately 27 miles of coastline that is enveloped by two natural peninsulas that border Quincy Bay. The land area of the City is approximately 17 square miles.
In 1789, Quincy's most famous citizens became nationally prominent, with the election of native son John Adams as vice president of the newly formed Union. Eight years later he became president of the United States. His son, John Quincy Adams, eventually
followed in his footsteps and attained the presidency, and following his tenure he became regarded by many as the finest diplomat in the Foreign Service Corps. The Adams were but one of many prominent and influential families residing in Quincy during the colonial years and thereafter. During its early history Quincy was an agricultural community, similar to many of its neighboring towns. The early advent of industry in the area gave rise to some of the first grist mills and iron furnaces in the country. Despite its proximity to the ocean, early on Quincy's commerce was largely geared toward the exploitation of terrestrial resources.
Granite quarrying, followed by shipbuilding, became the two most prominent industries within the Town. The construction of Kings Chapel and Bunker Hill Monument (in Boston) using Quincy granite was one of the primary reasons the demand for the area's
beautiful granite began to exceed supply. The demand throughout the region for the cumbersome quarried granite led to the development of the first commercial common carrier rail-line in the country, which was operated by local industrialist Gridley
Bryant and the Granite Railway Company. Their first contract was with the Bunker Hill Monument Association in 1827, and horses were initially used to haul the rail cars. Soon, however, the operation grew much more efficient. The early utilization of innovative
transportation technologies, such as the rail track switch, the rail car turntable, and the swivel trucked rail car, led to Quincy's eventual development as a major industrial shipbuilding center engaged in global trade.
Quincy Today
Today Quincy continues to attract professionals from in and around Metro Boston
seeking Quincy's numerous economic opportunities in a multitude of trades and
industries, as well as a superior quality of life in close proximity to Boston. Recent
development of Marina Bay is home to 685 boat slips and a fully equipped marina
with complete showers and laundry. Other Marina Bay highlights include several
fine restaurants with outdoor seating in addition to gift shops and boutiques. Daily
cruises to Provincetown depart from the marina as well as private cruises around Boston Harbor. Quincy also continues to attract urban professionals
and corporate offices from Boston, who continue to relish the City's convenient
location, excellent transportation facilities and numerous amenities.
Quincy expects to account for a significant proportion of the South Shore's future
commercial, residential, and retail growth.
Granite Lofts
118-120 Holmes Street at 435 Hancock Street
North Quincy, MA 02171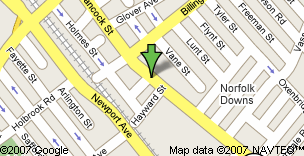 Contact Us:
Barry Rabinovitz
617-328-5800 ext 102
or
Angela Ponte
617-328-5800 ext 103